This is the Republican's next great hope Bobby Jindal.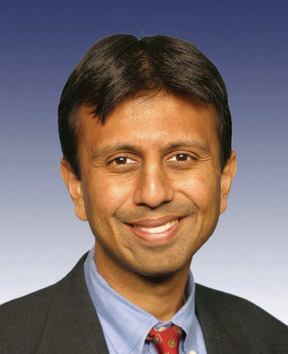 I got next.


Republicans are salivating on his chances in 2012
(though, I think he'll really come to the fore in 2016 unless Obama has less than a 40% approval rating.)
Jindal is an able legislator with a world class intellect. He's proven his mettle in a small crisis and he's a minority face with the GOP desperately needs.
And yet check out some of his positions:
...steadfast opposition to abortion without exceptions; his disapproval of embryonic stem cell research; his and his wife Supriya's decision in 1997 to enter into a Louisiana covenant marriage that prohibits no-fault divorce in the state; and his decision in June to sign into law the Louisiana Science Education Act, a bill heartily supported by creationists that permits public school teachers to educate students about both the theory of "scientific design" and criticisms of Darwinian evolutionary concepts.
So...the GOP thinks the only thing they need is a smart minority to regain the Presidency. If that's the case, Jindal is the guy. But look at his positions again...
those are NOT the positions of most of Americans.
I think the GOP is really missing the point. They need a true social moderate and fiscal conservative, someone like Arnold Schwarznegger or Olympia Snowe. Thier new message shouldn't be "same policies with a browner face"... it should be "we don't care about your personal life and we'll keep your taxes low as hell."
Jindal is an arch social conservative and Obama is just the guy to point this out in fairly effective detail.
Also, GOP friends, if all you needed was an identifying quality to sway Americans to your cause, Sarah Palin would have done it given her ownership of two X chormosomes. People rejected her intellectual incurousity and, I suspect, they will reject Jindal's arch conservatism as well.
America IS getting lefter and browner and younger. Any politics must realize this or die.
---
NOTE: Given the slow growth among certain young groups of promise rings...there is a chance the next generation of Americans could be total social conservatives. Very possible, but if that's the case that still puts Jindal's first chance at success at 2020 at the earliest.